Jerry Hug
Chief Executive Officer
Prior to being appointed as CEO and Director of the Company, Mr. Hug was Director of Operations from July 2018, where he was instrumental in architecting and executing the Company's pivot from a traditional agency to an Enterprise Software Technology company, focused on commercializing Artificial Intelligence and Machine Learning in the Digital Marketing and Advertising space.
Hug was previously Chief Executive Officer and Director of SITO Mobile from November 10, 2014 through February 2017, where he architected and executed the successful transformation of the company from a SMS aggregator to an industry leader in Location-Based Mobile Advertising while overseeing a successful NASDAQ National Market Listing. Mr. Hug also served as Director of Corporate Development, Executive Vice President of SITO Mobile Interim CEO, before his promotion to CEO in November 2014. Between 2007 and 2010, Mr. Hug was the co-founder and President of Waveyard Development LLC, a water-sports resort destination development company. From 2003 to June 2006, Mr. Hug served as Executive Vice President and Chief Strategy Officer of Wireless Retail Inc., a $400 million wireless services company that was among the first U.S. businesses to use the store-in-store business model to sell mobile phones for wireless carriers through large nationwide retailers. Mr. Hug was interim CFO for Wireless Retail Inc. leading up to its sale to Radio Shack Corporation. From 2002 to 2004, Mr. Hug was Managing Partner of Redwood Partners, an early-stage merchant bank and advisory firm that focused on providing early-stage capital and executive management to technology, media and telecommunications businesses. Mr. Hug attended The Pennsylvania State University where he studied finance on a full athletic scholarship, and was a member of the 1986 National Championship football team under legendary coach Joe Paterno.
Kevin Myers
Chief Product & Marketing Officer
As a trained Engineer and Chief Marketing Officer (CMO), Kevin is inspired by how technology can be integrated to drive efficiencies, increase transparency, and maximize results. He understands that CMOs are only as good as their last campaign and how difficult it is to prove advertising's true financial impact. This has been a challenge since the dawn of advertising, and he is driven to change that by innovating a product that connects the dots between marketing investments and sales revenue.
Kevin's believes in the power of "Marketer + Machine". The world of Artificial Intelligence (AI) allows us to do things that were previously incomprehensible or impossible and enables businesses to measure the performance of every marketing investment. It is time to use this technology to revolutionize the advertising industry and thus the Campaign Performance Platform was born.
Today, he proudly spends his time as a "Marketing Engineer" serving as a Board Member and Chief Product & Marketing Officer for AiAdvertising. It's his insatiable curiosity and innovation that has driven Kevin's successes, from notable positions at companies such as Cold Stone Creamery, Donatos Pizzeria, Sage Software (Act! & SalesLogix CRM), IBM Sterling Solutions, American Hospital Supply/Baxter Healthcare (Cardinal), and Frito-Lay.
Isabel Gongora
Chief Financial Officer
Isabel Gongora was appointed on October 7, 2021 to serve as the Company's Chief Financial Officer. Prior to her appointment as Chief Financial Officer, Ms. Gongora served as the Company's Controller beginning in March 2018. From March 2015 to March 2018, Ms. Gongora was the Accounting Manager and Treasurer of Peveto Companies, LTD dba Brake Check, a multi-million-dollar family-owned and operated company since 1968. Ms. Gongora began her corporate accounting career working for Argo Group, Inc., a public multi-billion-dollar Property and Casualty Insurance Company. Ms. Gongora graduated from The University of Texas at San Antonio with a Bachelor of Science in Accounting and the University of Incarnate Word with a Masters of Science in Accounting.
Thane Tennison
SVP of Media Strategy
Chris Lynde
EVP of Client Strategy & Execution
Chris Lynde is Executive Vice President of Strategy and Execution responsible for delivering a unified customer experience from data integration all the way through campaign execution. He oversees a team that includes Data Operations, Creative Services, Media Strategy, and Client Success.
Chris has 40 years experience in data-driven marketing. His extensive background includes several CEO and senior leadership roles at some of the nation's largest marketing and information services organizations, including MDC-Partners, Equifax Marketing Services, Experian, and A.C. Nielsen. Most recently, he was Senior Strategist and Team lead for Google's Marketing Solutions. He has senior leadership experience with P&L responsibility to over $300M at some of the nation's largest marketing tech, agency, and big-data analytic companies.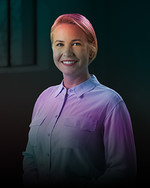 Libby Morris
Creative Director